Vere Gordon Childe

1892 - 1957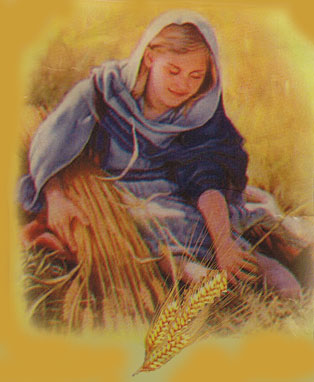 NEOLİTİK DEVRİMİ İLK HABER VEREN GORDON CHILDE
Nasıl ki Aya Yolculuk eseriyle insanların bir gün aya ayak basabileceklerinin mümkün olabileceğini ilk haber veren 1800'lerin fransız yazarı Jules Verne'nin bu kehaneti geçtiğimiz yüzyılın ilk yarısında gerçekleştiyse, aynı şekilde Tarım Devrimi'nin ilk defa Güney Mezopotamya'da değil de, normal yağışlı ve ılık iklimli Kuzey Mezopotamya'da gerçekleşmiş olabileceği teorisini/savını/haberini ortaya atan ilk bilim adamı Edinburg Üniversitesi'nde ilk Arkeoloji Bölümünü kuran avutralyalı bilim adamı profesör Gordon Childe'dir. Gordon Childe'ın bu iddiasını yerinde incelemek için de Güney Kürdistan'a giden bilim adamı da Chicago Üniveritesi'nden tarih profesörü profesör James Braidwood'dur.
Tarih profesörü James Braıdwood ve Diging Beyond Tigris, yani Dicle Kıyısı Kazıları adlı kitabın yazarı arkeolog eşi Bruce How 1950'lerin sonunda Kuzey Mesopotamya'nın gidilebileceği bölümüne bu amaçla bir arazı araştırma ve deney gerçekleştirme gezisine çıktı. O dönemler türkler Kuzey Kürdistan'a hiç yabancı sokmadıkları gibi, kürdlerin ülkesinin bu kesiminde böylesi bir çalışmaya kattiyen izin vermemişlerdi. "Bütün dünyada bugün ekilen buğdayın kökünün Diyarbekir'in Karacadağ mıntıkasından geldiği''nin ispatı ise daha sonra 1990'lı yıllarda bir gurup alman bilim adamı tarafından dünyanın her yerinden getirtilen buğday örneklerinin laboratuvarda DNA metoduyla saptanmasından sonra anlaşıldı.
Profesor James Braidwood ve ekibi 1958'lerden ta 1962 yılına kadar uzun bir dönem Güney Kürdistan'da neolitik (ekim) devriminin ilk nerede vuku bulmuş olabileceğinin araştırmasını 'Pre-Historic Investigations In Iraqi Kurdistan', yani Irak Kürdistanı'nda Pre-Historik Araştırmalar adlı kapsamlı bir kitapta rapor eederek, bu devrimin günümüzden 9000 sene önce Güney Kürdistan'ın Çemçemal ve Kerkük şehirleri arasındaki ÇERMO (Jarmo) alanında vuku bulduğunu ispatladı. Çünkü bu pre-historik yerleşim merkezinde yaptığı kazılarda buğday depolarına ve 9000 yıllık buğday depolarında yine ömrü 9000 yıl olan buğday tanelerine rastlamıştı.
Bu bilgileri özümsersek şu sonuca varmış oluyoruz: Birileri neredeyse bir kehanetle gelecekten haber veriyor ve sonra bilim insanları da bu haberler doğrultusunda çalışıp 'kehanet'in doğruluğunu ispatlamaktalar.
Profesör Gordon Childe büyük bir okumuş alimdi, 'What Happened in History' tarihte neler oldu adlı bir eser de vermişti. Neolitik dönemle ilgili inandığı hipotezleri yazmıştı. Sonuçta da onun öngördüğü gibi çıktı: ilk Medeniyet, tarihi Kürdistan topraklarında kurulmuştu.
Medeniyetin ilk defa tarihi Kürdistan topraklarında kurulduğu böylelikle ispat edilmiş oldu. Şimdi sıra filologların etimolojik çalışmalar ışığında bu medeniyeti kuran halkın da 'kürd halkı olduğu' dilbilimsel bir yolla ispat edilebilecektir. Zira bunun böyle olduğunun onlarca ve hatta yüzlerce emaresinin bulunduğuna işaret edildi bazı yazar ve araştırmacılar tarafından. Bu düşünürlerden biri merhum Cemşid Bender idi. Bakınız onun Kürd Uygarlığı adlı eserine.
Kürdlerin tarihi aydınlığa çıktığında bütün Ortadoğu'nun, bütün Avrupa'nın ve hatta bütün dünyanın tarihi HER YÖNÜYLE ve tamamıyla aydınlanmış olacaktır.

Vere Gordon Childe, prominent archaeologist and scholar, was born on April 14, 1892 in North Sydney, Australia. Childe was a graduate of Sydney University and Oxford University and early in his career he was noted as the most influential archaeologist theorist of his generation. He was Librarian to the Royal Anthropological Institute beginning in 1925, held the honor of being appointed the first Abercomby Professor of Prehistoric Archaeology at Edinburgh from 1927 to 1946 and Director of Archaeology at the University of London prior to his death.

Without Professor Childe, the basis of our knowledge of Old World archaeology would never have been written. He traveled throughout Greece, Central Europe and the Balkans studying the literature. From this trip came The Dawn of European Civilization which shows how the elements of Near Eastern and Mediterranean civilization moved upward to the rest of the continent. Another one of his more famous works is Man Makes Himself in which he illustrates how the Neolithic and Urban Revolutions had their impact upon mankind. Vere Gordon Childe was a very accomplished man and he laid the foundation of the theory and methodology of archaeology in the Old World.

- Childe is author of numerous educational texts including:
- The Dawn of European Civilization (1925)
- Man Makes Himself (1951)
- What Happened in History (1942)
- Progress and Archaeology (1944)

V. Gordon Childe died from a fall off a cliff near Sydney, Australia on October 19, 1957. He had just retired from University of London and had returned to Australia to write another book, a book that was never written.

References:
Biography Vere Gordon Childe
American Antiquity Vol XXIV [1,1958] page 82
Written by Students in an Introduction to Anthropology Class, Minnesota State University, Mankato, Minnesota 2000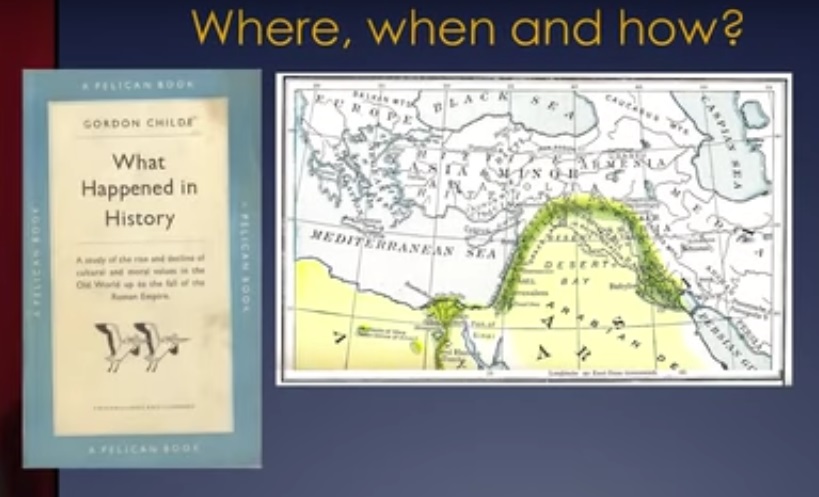 A brief resume of the work: What happened in History (1942) in a short sentence: "It was women who gave birt to civilisation".
"At first the women gathered wild wheat merely by breaking off the heads or pulling the grains from them. Later they used wooden or bone sickles set with small flints, which would cut several stalks at a time. Ancient sickles have been found in the region, with flints that are polished just back of the edge-polished millennia ago by silica particles in the wheat straw.
Gathering wild wheat, even with a cleverly made sickle, is not agriculture. Gradually, however, the women came to realize that their wheat supply could be increased by planting some of the grain they had gathered in places where wild wheat did not grow naturally. They may have gotten this radical idea by observing that wet kernels often sprouted, forming small, green plants like the ones they saw growing wild.
It is anyone's guess what those earliest cultivated fields were like. Perhaps the women first sowed the seed in places where floods had covered the ground with bare silt, or they may have looked for patches of thin sod and spaded them after a fashion with their root-digging sticks. Either way would also grow well if planted lower down, on more fertile plains and foothills".
THE FOOD THAT LAUNCHED CIVILISATION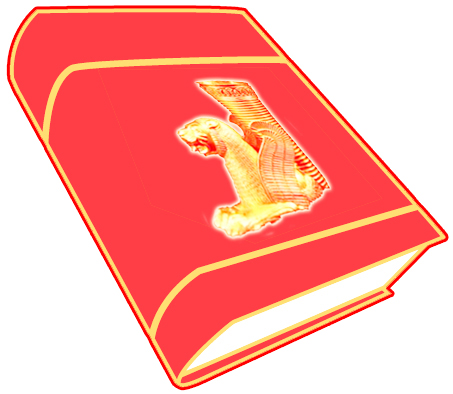 Foundation For Kurdish Library & Museum